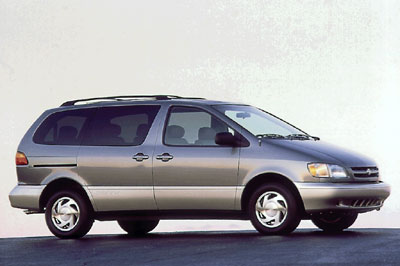 2003 Toyota Sienna Factory Service Repair Manual
Instant Online Access + CD Copy Option
This is a digital copy of the 1998 - 2003 TOYOTA SIENNA Factory Service and Repair Manual with detailed instructions, and lots of pictures and diagrams to show repair procedures that you can easily follow. This manual has the same information that professional mechanics, dealers and shops use as reference to fix your vehicle with step by step instructions. It contains all the information you need to fix and maintain your family or business minivan.
The manuals are in PDF format and clearly printable so you can work on your vehicle with the manual right there with you. Adobe Reader program is also included in the CD copy in case you need it.
100% Satisfaction Guaranteed: We have sold hundreds of copies and have maintained positive feedback. This is why we are 100% sure that you will be satisfied. If you are at all unsatisfied with this manual, let us know why and return it, and we will refund you 100% of the purchase price.
Instant Online Access: Direct online access is included with every purchase.This manual will always be available to you through the internet. You can access it as a webpage or download the entire manual and use it anywhere. There is nothing to lose or damage. The CD and online versions are exactly the same. You will be emailed your own personal login information when payment is received so you can start working on your Sienna ASAP. Note: Your account information will be sent to the primary email address linked to your payment account. Please make sure this email account is active.
Free Delivery: Free delivery is included with every purchase. There are no shipping fees to pay.
CD Copy Option: Color-Labelled CD copies are also available and come in a protective, cardboard mailer to make sure they get to you in perfect condition. If you would like one, please select the "Online Access + CD Copy" option when making your purchase.
100% Risk Free: There are NO restocking fees. There are NO return shipping costs if you choose the online access only option. You can buy and try the manual 100% Risk Free.
Want to see a sample directly from the manual? No problem! Just send an email to 19982003sample@siennamanuals.com and we will send you a sample.
The manual covers the following topics and more:
Service and Maintenance
Factory Maintenance Schedules and Charts
Complete Torque Specifications
Troubleshooting and Diagnostics
Computer Diagnostic Codes and Trouble Tree Charts
Timing Belt Replacement and Service
Serpentine Belt Routings with Diagrams
Engine Overhaul and Rebuilding
Engine Performance
Firing Orders
U-Joint and CV-Joint Service Procedures
and Much More
Service Repair Manual Table of Contents:
Introduction
Maintenance
Preparation
Service Specifications
Diagnostics
Engine Mechanical
Emission Control
SFI (Fuel Injection)
Cooling
Lubrication
Ignition
Starting
Charging
Automatic Transmission / Transaxle
Suspension & Axle
Brake
Steering
Supplemental Restraint System (SRS)
Body Electrical
Body Mechanical
Air Conditioning
Electrical Wiring Diagrams
Sienna Owner's Manual
Collision Repair Manual